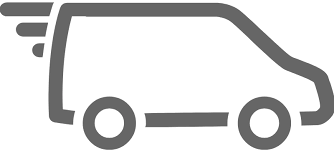 Home Delivery
Delivery Areas:
We deliver throughout England, Wales and Scotland with the exception of The Scottish Highlands & Islands, The Isles of Scilly, The Isle of Man, and Northern Ireland.
Product Availability:
Please note that some products are unavailable for shipping (e.g. frozen, fragile or heavy products). If you are located within our delivery area (see Business/Wholesale Account section below), and wish to order an unavailable product please contact us.
Minimum Order:
There is no minimum order amount.
Delivery Information:
Your order will be delivered by one of our courier partners: DHL, DX48 or TNT. Shipping fees are automatically calculated at checkout, and they will vary on the weight of your order (please note that packaging weight is also taken into consideration).
Under 20kg: £7.99
Over 20kg: £10.99
Returns & Claims:
Any loss/damage must be notified in writing or by telephone within 2 working days. Once our Accounts department is notified a refund will be issued in 3-5 working days.

Business/Wholesale Accounts
At the moment we are only able to supply businesses located in certain areas of the UK - from our head office in Bristol, down to sunny Cornwall, South Wales and all the way up to the busy city of Birmingham.
However, if you are not located in any of these areas but still wish to order, then please do not hesitate to contact us.
Ordering:
You will need to open a wholesale account to order as a business. All business accounts are subject to approval.
Delivery Areas:
SWANSEA, CARDIFF, THE VALLEYS, NEWPORT, BRISTOL, BATH, SOMERSET, CHIPPENHAM, BIRMINGHAM, SWINDON, READING, OXFORDSHIRE, PLYMOUTH, WEYMOUTH, PORTSMOUTH, CORNWALL and all surrounding areas.
Minimum Order:
Mercanti provides an inclusive delivery service directly to your business subject to a minimum order of £40(excl. VAT) in Bristol and surrounding areas, and £100(excl. VAT) in other areas in accordance with Mercanti's delivery schedule. More details to be given upon account application.
Delivery Information:
The customer must ensure that staff is available to receive a delivery during their agreed delivery day. Please note we cannot guarantee a timeslot due to unforeseen circumstances such as traffic, accidents en route, weather, vehicle faults etc. Upon request, we can contact you to inform you before your delivery arrives.
Deliveries must be checked at the time of delivery in the presence of a driver. The customer must sign the delivery note/invoice by way of acceptance of the goods and must document any shortcomings.
Returns & Claims
All goods must be examined on delivery. Any loss/damage must be recorded on the delivery note, both carriers and the office advised in writing or by telephone within 2 working days. Our Accounts department will then issue a credit note.
Please do not deduct the expected amount until the credit note is issued and received by yourself.

General Information

Acceptance of Orders
All orders are accepted and payment is taken at the point of dispatch. All orders are subject to availability and products that are out of stock at the point of dispatch will not be charged. Your invoice/delivery note will be attached to your delivery or sent via email upon request.
Maximum Order Quantities
Please note Mercanti may limit the number of goods supplied to any one customer.
Prices
All prices are subject to the price ruling at point of purchase but may be subject to revision at any point. Any offers or promotions are subject to availability and may be withdrawn at any time.
Catch Weight Prices
When ordering products priced 'per kg', prices are subject to the actual weight of these items and your order will be adjusted on your final invoice.
Data & Security
Ordering with Mercanti is made easy
Simply log in and start filling your basket. Once you have finished your shopping, head to check out and follow the secure payment process.
Your personal information and private details are safe and are not stored by our company.